Squires Gate Lane, Squires Gate, Blackpool, Lancashire.
POSTCODE———————————-FY4 2QS
LOCATED————————————About half mile east of sea front on land now occupied by Blackpool Airport.
ORIGINAL SITE—————————–Clifton Park Racecourse.
DATE CONSTRUCTED——————–Early 1933.
DATE VENUE OPENED——————-April 1933.
Meaning other sports may have taken place prior to the arrival of Greyhound Racing.
FIRST MEETING—————————--April 7th 1933.
Greyhound Racing only.
LICENSED OR INDEPENDENT———-NGRC.
All venues covered would have to be licensed with the government, licensed suggested in this section would refer to tracks operating under NGRC Rules.
INSIDE OR OUTSIDE HARE TYPE——Possibly a Trackless type of lure.
Please note that the Electric Hare suggested is only a guidance and would have been in operation for a certain amount of time at this venue. Although it is not necessarily guaranteed that it was operational all the time, as other types of lure may have been used and updated as time progressed.
DISTANCES———————————–A 500 yard straight and a 550 yard Horseshoe type track.
Please note that most racing venues distances had become varied throughout the years, the ones given above were at once point set and offers only a guidance to the track size.
CIRCUMFERENCE—————————N/A
Please note that alterations at most racing venues throughout its existence would see that the circumference of the track would vary, the one shown above offers only a guidance to the track size.
BIG RACE NAMES—————————Nothing known of.
STADIUM SHARED WITH—————–Nothing known of.
LAST MEETING——————————Autumn 1935.
Greyhound Racing only.
STADIUM CLOSURE DATE—————November 1935.
Meaning other sports may have taken place after Greyhound Racing had ceased.
STADIUM DEMOLITION——————Grandstand demolished during 1960.
BUILT ON SITE——————————Army Hospital, then regenerated to act as part of Blackpool Airport.
In some cases, structure's that originally covered the venue after the stadium had been demolished, may have been themselves demolished too, so the one described is more likely to be the one which now presently covers the site.
EVIDENCE LEFT TODAY——————Nothing known of.
FURTHER COMMENTS——————-None.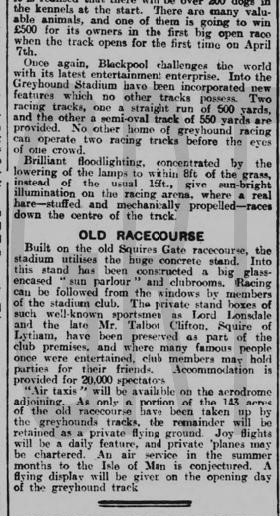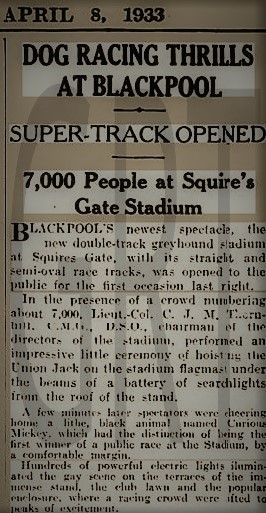 After years of searching for information regarding greyhound tracks throughout the UK, its come as a shock to me that one I have missed operated in the North West. Its short existence may have been an excuse because, yet it comes as a great addition to the list.
It was known as The Squires Gate Greyhound Stadium, Blackpool, making it the second of three tracks that promoted greyhound racing within the seaside Borough. By 1933 the St Anne's Road Greyhound Stadium had already established itself, yet within half a mile of this venue there was competition from a new venue just down the road. It came from the newly constructed Squires Gate Greyhound Stadium which had been constructed on the grounds left behind by the Clifton Park Racecourse, with its main grandstand already in place backing on to Squires Gate lane.
The grandstand had overlooked horse racing events between 1911 and 1915, but the interruption of The First World War had seen the site transformed during 1915 to act as a convalescent hospital to accommodate around 2,000 soldiers of The King's Lancashire Military. Yet it was during the early months of 1933 that a greyhound company had been given permission to regenerate the site to act as a new greyhound stadium. £30,000 was spent on refurbishing the grandstand and erecting a 60 feet high results board overlooking two newly laid tracks from the eastern end.
Two greyhound tracks? you may ask, yes it had become the first and only greyhound racing venue to offer racing on two different types of tracks. Firstly, there was a 550 yards Horseshoe shaped circuit along with a 500-yard purpose built straight constructed right in front of the main grandstand. Its purpose was to attract the fastest greyhounds from around the country. It had a crowd capacity of around 20,000 and kennelling space for more than 400 greyhounds, and also the latest in trackside lighting. Meetings were to be staged under NGRC Rules and on the 7th of April 1933,
The Blackpool Super Stadium as it was recognised staged its first meeting. 7,000 patrons were in attendance to cheer home the first ever race winner Curious Mickey. A meeting on the 12th of May 1933 brought another chapter to the Blackpool track, when the nationwide known greyhound, Beef Cutlet, set up a new world record time on the 500 yard straight. But the optimism of a new greyhound racing venue did not live up to expectation and by November 1935 all track equipment was up for auction. Its closure had come to a premature end mainly due to the Council and the promoter unable to agree terms on a new lease.
The venue was closed and laid idle up until the declaration of The Second World War, when it became host to the Military once more. The grandstand was eventually demolished during 1960 after it had decayed so badly and eventually deemed unsafe by the council.
Today the site of the western side of the grandstand is covered by The Premier Inn, with the continuous car park on its eastern side covering the rest of the site. The track itself is now tarmacked over littered with airport buildings, leaving no evidence at all of the venue ever having been there.