When sifting through the list of greyhound racing venues, now and again The Mitcham Stadium pops up to suggest greyhound racing did take place at the venue. My view is that intentions were there to promote greyhound racing, but no evidence shows that meetings were ever staged, and it still remains doubtful whether a track was laid or not.
If a track was laid, then possibly trials would have taken place and attempts for a temporary license would also have been revealed in the local press but again nothing is found. It is only fair that this venue gets a mention on the website as this page is published for you to make your own mind up, whether or not the sport was staged at The Mitcham Stadium.
These following cuttings from the 1950's convinces us that greyhound racing did not take place at all, but unfortunately does not reveal whether a greyhound track was laid or not.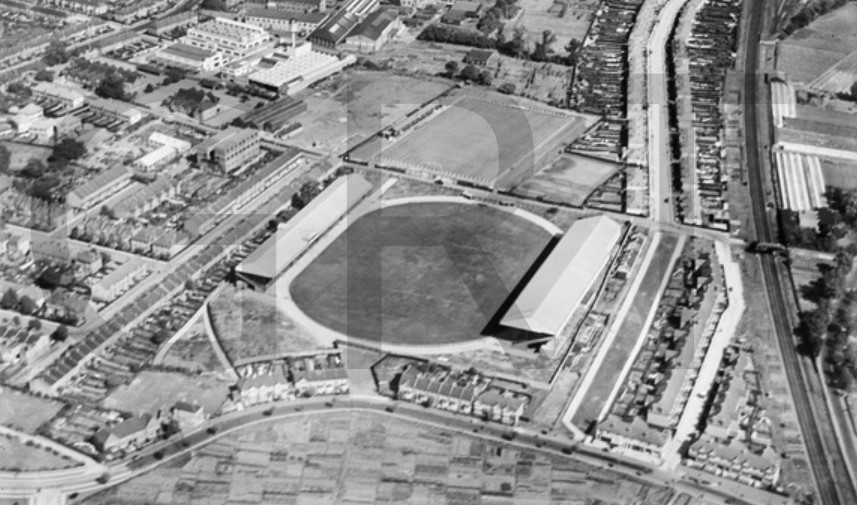 HISTORY OF THE MITCHAM STADIUM

The venue lay eight miles south of London city centre, and about one mile north of Mitcham town centre, virtually opposite to Tooting & Mitcham Football Clubs old ground on Sandy Lane. The stadium had developed during 1935 on a disused gravel pit situated between Sandy Lane and Eastfield Road, with a view of staging Rugby League, and becoming the home to Streatham & Mitcham RLFC.
The rugby club played its opening fixture against Oldham on the 7th of September 1935, in front of an impressive 24,000 record attendance, yet by February 1937 ambitions soon became deflated as the club folded due to lack of interest. During 1935 Baseball had featured also, yet it was during this period that the approach to stage greyhound racing was suggested.
Although The Mitcham Stadium was constructed to host various sports, its failure to host greyhound racing was down to the promoter being unable to obtain a betting license for various reasons. The main reason was that there was an issue reported by the police suggesting that excess street parking during gatherings would cause congestion, and certainly would not have been welcomed by local residents.
With no greyhound racing and a brief spell only of Rugby League the venue was no longer required. It soon became clear the venue was becoming a White Elephant as Hurling and Athletics was tried and yet still without much success. What happened to the venue during hostilities remains unclear, but by 1955 demolition workers had begun to dismantle the stadium.
The main stand had been purchased by Leyton Orient Football Club, who transferred and erected it at their Brisbane Road ground during 1958, complete with a viewing porch still perched on its roof. The opposite stand was dismantled also, and became erected a little later in 1963, at The Eyrie, the home of Bedford Town football club, who itself staged Greyhound Racing back in the 1980's.
New Housing known as The Laburnum Park Estate eventually took the place of the stadium, with a cluster of streets covering the site, yet Fowler Road became its locater as it actually cut the old stadium site in half.