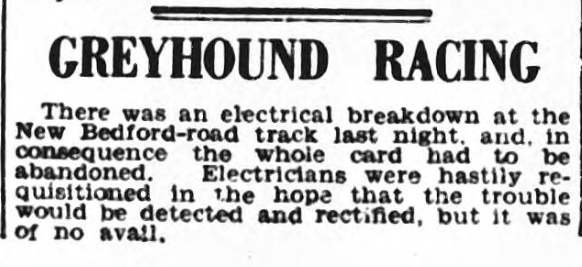 The third of the three greyhound racing venues linked to the Bedfordshire town of Luton, was the one known as The New Bedford Road Greyhound Track. It was located roughly three miles north of Luton Town centre, adjacent to the present day A6, known then as The New Bedford Road.
It is known that gatherings began at the venue during 1930, its exact beginning has yet to be determined, but it may have been the follow up to the old Stopsley track which once operated roughly two miles away. The year of 1931 had seen considerable development at this venue, confirming that racing would be floodlit and also a permanent stand had been erected, with all cards and results being published in the local press.
The results indicated that races were staged over 250 and 410 yards, meaning that the racing circuit was small in circumference. Racing would continue throughout the following years up until 1935 with results still being printed in the local press, along with the Luton's other venue at Skimpot Road. But its last appearance in the press dated September 24th 1935 indicated that the previous night's meeting had been abandoned due to problems with the electric hare. No further results for this venue were found to be printed in the press following this, and it is my presumption that no further greyhound racing gatherings were staged after.
At present its exact location has yet to be confirmed, but the company's title, The Luton Greyhound Association had links with the Associated Sports Ground. The advert explains that the venue was situated near a golf course, presumed The South Bedfordshire Golf Course, which still remains in operation today, yet a sports ground does feature on old maps within this vicinity.
The sports ground in question today is known as Warden Hill Recreation Ground, which during the summer months hosts cricket matches, which consists of a red bricked pavilion, along with a car park situated at the end of Lancaster Avenue. It is this approach which begins to trigger off the mind when witnessing the pavilion's tower structure, thinking it's the hare control tower. Sadly, it's not the case, as this structure appeared on maps during the 1960's, but what is possibly a remnant of those greyhound racing days is the actual entrance to the car park.