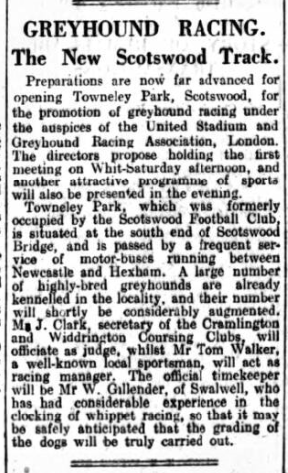 Without doubt when discussing greyhound racing in the city of Newcastle it comes as no surprise that Brough Park instantly comes to mind. Yet looking back in time, information reveals greyhound racing did take place at two other venues within the cities boundaries, albeit on the opposite side of the River Tyne. Anyone who's forefathers came from the north east may have mentioned the Newcastle White City Stadium, a vast purpose built venue which ceased racing during 1951.
But it is this paragraph that reveals a third venue known as Towneley Park, which may clear up some confusion regarding the history of The White City Stadium close by. Towneley Park had originally been a small football ground which was the home to Scotswood Football Club. It was a smallish venue, although enclosed it had a small grandstand located on the north side of the pitch which backed on to Chain Bridge Road.
Information regarding the venues origins is unknown, but was is known is that greyhound racing was staged for the first time on May 26th 1928, four weeks prior to the opening of Brough Park. Meetings were staged at an independent level, with race distances calculated at 400 yards. Throughout those pioneering days teething problems were inevitable, as it was reported that the first meeting had become a total shamble, with the first race being delayed due to an escaped greyhound on the track. Once things did get under way, the electric hare broke down halfway round the circuit during the first race, then later more misery for the organisers, as the majority of greyhounds just wanted to fight each other rather than race.
It is known that meetings were staged regularly, but ceased during August 1928, but the venue's existence after that has not yet been revealed. The venue itself remains a mystery also, one of the questions asked is that did it continue to host football after the dogs had gone, but one things is confirmed by Ordnance Survey Maps reveals that the venue had been demolished prior to the construction of the adjacent White City Stadium.
The site of the old Towneley Park venue is now pinpointed by Units on the Blaydon Trade Park Phase 1 Area, with the foundations of the old kennel block roughly laying beneath the unit of M & S Beautician Supplies.